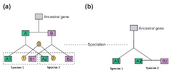 The terms orthologue, paralogue, and homologue are often used incorrectly in scientific literature.  This section defines orthologue..
According to M. J. Kobayashi and K.K. Simizu, orthologues are genes "in two different species that derive from the same ancestral gene of the common ancestor."
According to R.A. Jenson, orthologs are genes that happen after speciation, and paralogues are genes that result after duplication.  Jenson also says that ortholog genes and paralog genes are both examples of homologous genes.
This website provides a more detailed explanation with illustrations:  Orthologous and Paralougous
Section heading
Edit
Write the second section of your page here.